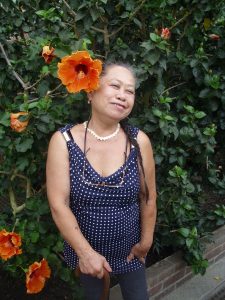 Inventive and magical is how Michelle Nugent '09 remembers her childhood, thanks to her late mother, Andrea Duria Nugent.
Together, mom and daughter often used common household goods and recycled materials—swirled in abundant imagination—to craft toys and art.
"One of my earliest memories of creating artwork with my mom was melting crayon remnants onto fabric that she had dyed and starched," says Michelle.
Gifted with her hands, Andrea, a native of the Philippines, enjoyed creating keepsakes like clothing, crocheted and patchwork quilts, seasonal decorations, and floral arrangements. Particularly talented at embroidery, she was able to stitch intricate floral patterns from her imagination with impressive accuracy.
"My mother was and remains a significant influence in my creative process and artwork," says Michelle, now a teaching-artist-in-residence at CityArts, a nonprofit art organization in Providence, Rhode Island, and former adjunct art faculty member at TCNJ.
While the circumstances of her own life didn't allow her to pursue an education beyond middle school, Andrea knew the value of a formal education and always encouraged her daughter to advance as far as possible in her chosen field. To that end, Michelle earned her BFA from the college and went on to earn an MFA from Maryland Institute College of Art.
Though Andrea died suddenly in April 2016, her love of art and belief in the power of education will live on through the Andrea Duria Nugent Memorial Scholarship, established by Michelle and her father, Dick. Their $50,000 gift will endow a fund that will provide annual scholarship support to Asian American students—paying homage to Andrea's country of origin—enrolled in the School of the Arts and Communication in the Department of Art and Art History.
"It's commonly said that some parents live out dreams through their children," says Dick Nugent. "In Andrea's case, her dream of having a well-educated daughter was not only fully realized during her lifetime, but has been extended into the hereafter for so many more of her 'adopted children' in need. She would be so proud—yet a bit self conscious—to have an annual art-related scholarship in her name."
—Emily W. Dodd '03