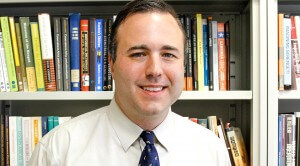 To a historian, 10 years might be a blip on the radar. To someone writing a book, 10 years could feel like an eternity.
As the third recipient of the Gitenstein-Hart Sabbatical Prize, Associate Professor of History Matthew Bender will get support during the 2016–17 academic year to bring his decade-in-the-making book to fruition.
His manuscript, "Water Brings No Harm: Knowledge, Power, and the Struggle for the Waters of Kilimanjaro," examines struggles over the control, management, and meaning of water resources on Tanzania's Mount Kilimanjaro for the past 150 years.
"I'm looking at a very narrow place but over a large period of time to look at the bigger question of how people think about water as a resource," he says.
According to Bender, there is a "mind-blowing" number of outsiders who have come to Kilimanjaro to try to influence local thinking about water—how it should be delivered, who can access it, whether or not it should remain free. The local population, with their own knowledge of water only accepts new ideas as they prove relevant. For example, people boil their drinking water, but reject science showing that irrigation is harmful to the mountain.
His hope is that the book will have powerful implications not just for scholars of African history, but also for policymakers, engineers, and development specialists.
"It's really essential that they understand how local people think about [the resources]," he says. "It's not enough to go in with a technical solution; it's about understanding how a community uses a resource in order to know what the best technical solution is."
The sabbatical will not only afford him time to fine-tune his writing, but allow him to travel back to Tanzania for follow-up fieldwork.
"Historians are book writers," says Bender. "I'm super excited to have a year's worth of time with this as my primary task."