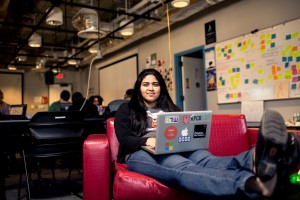 With the support of a campaign gift from Andy '83 and Maria '83 Polansky, senior interactive multimedia major Niveda Harishankar is designing an app that could have a life-saving impact on campus.
The Andy and Maria Polansky Scholarship Endowment provides fellowship awards in recognition of TCNJ students who demonstrate exemplary leadership and a commitment to enriching the community by applying their talents and skills in communication, media, and technology.
Moved to action during her junior year when a fellow classmate died by suicide, Harishankar's idea for the TCNJ Wellness app blossomed in her mobile computing class that same year. She wanted to ensure that mental health resources for students were never more than a swipe and tap away.
"It just came together in my mind that this app would be a small step toward bringing students the resources they need in order to make a difference," she says.
The $1,000 fellowship prize sent her to HOW Design Live, a weeklong professional graphic design conference in Chicago that gave her the expertise and motivation to bring the project to life.
"The conference taught me how graphic design can solve problems in order to better my community," she says. And that's exactly what she set out to do for her fellow students.
The mobile app allows students to lift their spirits, track their moods, and get help from the community, all while protecting their privacy. It features a mood tracker, suggested activities and exercises, and quick access to existing psychological resources at the college.
After she graduates in May, Harishankar will head to a full-time position at Amazon.com as a user experience designer.
"Every single project at TCNJ has been a step toward becoming a better problem solver," she says.