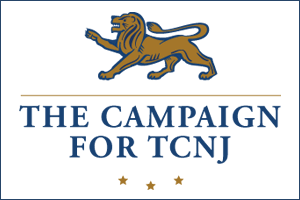 On Saturday, April 25, approximately 1,000 students, faculty, staff, alumni and friends gathered on a sunny and crisp Quimby's Prairie to be a part of college history.
The moment came at 4 p.m., when TCNJ President R. Barbara Gitenstein took center stage for the big reveal—the special announcement that the college was undertaking a major initiative to ensure a TCNJ education continues to be both exceptional and accessible for hardworking, high-striving students.
The campaign—subtitled "Innovate, Inspire, Engage"—is the college's first-ever comprehensive fundraising effort. With a goal of raising at least $40 million by June 2017, the campaign will advance four priorities: student support, academic enrichment (including support for faculty research and scholarship), the student experience, and capital improvements.